Memberships ‌| Continuing Education | Our Dogs

Growing up in North Bay, Ontario, Sarah-Jane's family always included at least one standard long-hair dachshund. When her parents began to breed and enter their dogs in the conformation ring, Sarah-Jane become involved in the training and showing of the dogs.

After completing her degree in chemical engineering in 2000, Sarah-Jane moved to Calgary. Her love of animals, and a living situation that did not allow her to have her own dog, brought her to the Calgary Humane Society, where she began volunteering as a dog walker. Dog walking allowed her meet dogs of all ages, sizes, breeds, and personalities.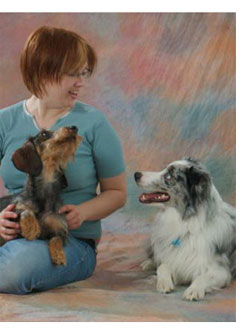 In 2004, Sarah-Jane acquired her first dog, Maggie, a standard wire-hair dachshund. After taking basic manners classes, Sarah-Jane was hooked on dog training. Since then Maggie and Sarah-Jane have trained for or competed in agility, rally obedience, competitive obedience, tracking, earth dog, and scent hurdle. Since then, Diego, an Australian shepherd has also joined her family.
Sarah-Jane completed a one year apprentice program at the Calgary Humane Society and instructed there for over a year. In 2007, TLC Training and Consulting was born. Sarah-Jane's strong belief in teamwork, leadership and communication has allowed many dogs and their human owners to understand and bond more strongly with each other.
Sarah-Jane continues to learn from her students, fellow trainers, as well as actively attending seminars, reading books, and watching training videos.
In October of 2008, Sarah-Jane met the requirements to become a Certified Pet Dog Trainer(CPDT). This internationally recognized testing process, certified by the Certification Council for Professional Dog Trainers, encourages continuing education and humane training methods.
Sarah-Jane holds memberships with APDT (Association of Pet Dog Trainers), CAPPDT (Canadian Association of Professional Pet Dog Trainers), and IAABC (International Association of Animal Behaviour Consultants. She is a fully licensed rally obedience judge with CKC (Canadian Kennel Club), CARO (Canadian Association of Rally Obedience) and a Level 1 judge with APDT. She is also a Junior Earthdog judge with CKC.